3-Wind with Bruce Kulick, 6/17/08
3-WIND WITH...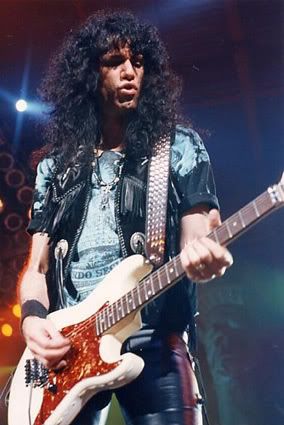 Ex-KISS guitarist BRUCE KULICK!
That's right, Bruce Kulick returns to Metal Sludge for his very own 3-Wind... after a 7-year absence!
Before we get started, just a friendly reminder: DO NOT TRY THIS AT HOME!
Yeah, yeah, we know we don't run as many rock star interviews as we used to... but that's no reason to take matters into your own hands! We don't want our Sludgeaholics risking their lives by conducting rude interviews on our behalf! Considering the kinds of questions we ask, you might end up taking a punch from Jani Lane or getting smacked around by Sebastian Bach. Seriously, both of these things have happened to well-intentioned Sludgeaholics in the past! In fact, only a handful of people over the years have had what it takes to conduct an official Metal Sludge interview, mainly because they're not the kind of thing that an average fan should ever attempt.
That being said, the following guest interviewer strikes us as anything but the average fan.
Some of you may remember a story we ran 3 years ago called "STAR KISS'D: The Adventures of Maul Stanley." We had no idea who this Maul Stanley guy was or where he came from, but we couldn't deny that he had a really great gimmick. Anyone who finds a way of combining Darth Maul from "Star Wars" with Paul Stanley from Kiss is either a certified genius or criminally insane. And from the looks of this guy, he's probably a little of both.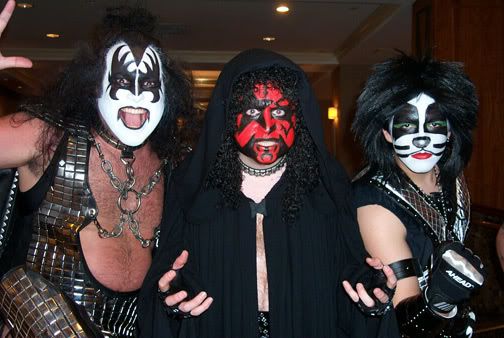 Beyond that original article (which saw Maul Stanley snagging a bunch of Metal Sludge captures at one of the big Star Wars Celebration events), the so-called "Sithchild" has appeared in a Star Wars TV special on VH1 and was even interviewed by Triumph the Insult Comic Dog on his DVD. Last year, Maul Stanley conducted a few interviews of his own with the likes of Dee Snider, Rikki Rockett, Jay Jay French, Fred Coury and Alex Grossi, asking them all about their love of Star Wars! Still, it looks like our mysterious man in black has outdone himself this time by interviewing an actual member of the Kiss family in longtime guitarist Bruce Kulick!
As you've probably already figured out, this is in fact the third time Bruce has been interviewed here at Metal Sludge. We ran his original 20 Questions on September 21, 1999, not long after he had teamed up with freshly fired Motley Crue vocalist John Corabi to form the colossal bore that was Union. Bruce later returned for his official Rewind on September 13, 2001. Both times, he proved himself fairly unflappable by letting almost all of our insulting questions roll off his back. It almost wasn't any fun because nothing we threw at him seemed to get under his skin. Still, Bruce stepped up to the plate and proved he could hang. In addition to Bruce himself, we've also featured 20 Questions with his Union bandmate John Corabi and two interviews with Union bassist Jamie Hunting, who provided endless hours of entertainment with his incomprehensible 20 Questions and Rewind. Drummer Brent Fitz is the only member of Union to actually blow us off by never getting back to us, so we finally had to throw him on the Pussy List.
With regard to Kiss, the only other interview we've featured here at Metal Sludge was last year's amazing 20 Questions with drummer Eric Singer, brought to us courtesy of longtime correspondent C.C. Banana. Coincidentally, the Banana makes a cameo appearance in the following interview with Bruce! As you may recall, we ended Eric's 20 Questions by hoping that it might lead to further interviews with the members of Kiss. Well, it looks like we got what we wished for... although we never thought it would look anything like THIS: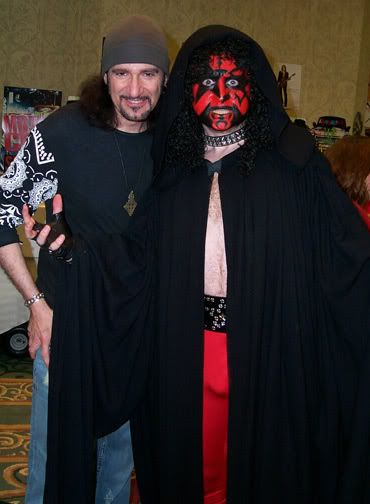 As with Eric's interview, Bruce's Q&A was conducted live onstage at the annual NY/NJ Kiss Expo, where he and Maul Stanley were featured guests. Taking place on May 3, 2008, the event was attended by several hundred Kiss fans and a handful of rock celebrities, including Ted Poley of Danger Danger, Joey Belladonna of Anthrax and DJ Eddie Trunk. You can see photos of Maul Stanley's adventures at the Kiss Expo by visiting his official MySpace page and you can read Bruce's own recap of the interview at his website.
Interestingly, in keeping with the dual nature of his character, Maul Stanley has actually conducted TWO interviews with Bruce Kulick -- one about Kiss, the other about Star Wars! Naturally, the Kiss-themed interview follows below while the Star Wars interview can be accessed via the official news blog at StarWars.com.
Anyway, we now present our long-overdue Metal Sludge 3-Wind with guitarist Bruce Kulick! The big event kicks off with a few words from C.C. Banana, who takes to the stage to introduce the proceedings.
HELLLLLLOOOOOO KISS EXPO, NEW JERSEEEEYYYYYYYYYYYY!
The crowd cheers!
MY NAME... IS... C... C... BANANA!
The crowd cheers again!
Folks, you're in for a real treat today! You are about to witness the very first appearance... at any Kiss event... of a very special individual.
He's dark...
He's mysterious...
He's sexy...
He is...
MAULLLLLLLL... STANLEEEYYYYY!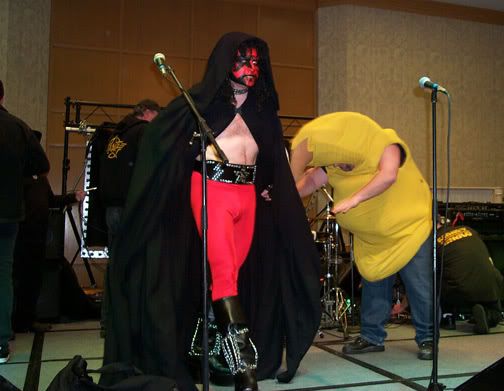 Star Wars music plays and fans applaud as the sinister Maul Stanley storms the stage. Note C.C. Banana bowing on the right!
After a requisite dramatic pause, Maul Stanley speaks.
Greetings, Kiss Expo!
I am Maul Stanley.
I am not Darth Maul.
I am not Paul Stanley.
I am...
MAUL STANLEY
I am evil, and yet I rock.
Show me how much you love me, New Jersey!
The crowd cheers for Maul Stanley as the front row gets an eyeful of his package.
Are you people ready to bring on the JUICE?
The crowd cheers loudest of all!
In that case, let's hear it for BRUCE!
Bruce Kulick takes the stage to the loud approval of the Kiss fans.
Greetings, Earthlings! I have to say, I've been interviewed by some strange people before... but Maul Stanley definitely tops the list!
Are you ready for your interrogation, Mr. Kulick?
Absolutely!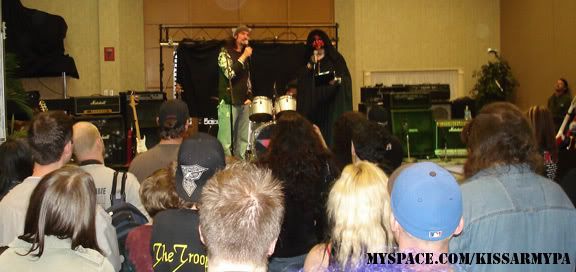 1. What are you currently up to? This is your one and only chance to plug your shit.
In true Gene Simmons fashion, I am here to promote a new project! It's called KKB and even though it's something new, it's actually something from my past. When I was 19 or 20 years old, I had a power trio with some friends from the neighborhood, Mike Katz and Guy Bois. We would jam, practice our riffs and come up with new ideas. We even created some original music, which I only recently re-discovered on an old reel-to-reel tape. So I tracked down a vintage TEAC tape recorder and played the music for some friends, who all told me that I should release it! Even though the material was recorded in 1974, it still sounds surprisingly current. So I pressed up a limited run of 1,000 CDs and I have those on sale today for the very first time. The disc itself is printed to look like the original reel-to-reel tape and the inside cover features a little write-up about the project. It also includes a photo of me from back then, when I looked like a '70s porn star! So that's what I'm promoting here at the Kiss Expo today.
As for the other stuff I have going on, I'm still performing in Grand Funk Railroad, who will be playing in Atlantic City at The Hilton this summer. I'm also producing some exciting new artists, all of whom can be found on my MySpace page. And of course, I'm also still working on my newest solo album "BK3." In general, I'm still doing everything I love to do, playing guitar and creating music.
Will Eraldo Carugati be painting the cover of your new solo album?
I don't think so! Actually, I don't know what I want to do with that yet. Even though a few friends and fans have shown me some designs, I probably won't know what I want until I get closer to releasing the album.
2. What is the status of your long-delayed autobiography "Honorary Discharge?" You've been promising that for about 10 years now. Is it really not finished yet or are you just waiting for Axl Rose to release "Chinese Democracy?"
That would make sense! When Axl finally puts out that record, I'll have no choice but to finish my book! In truth, the book already has about 24 chapters written. However, it's been at least 6 years since I actually worked on it, mostly because the music itself always takes priority for me. Even though I think I have a fabulous story to tell, somewhere along the way I seemed to lose my passion for writing it all down. Having said that, I know that at some point the time will be right to at last finish it up.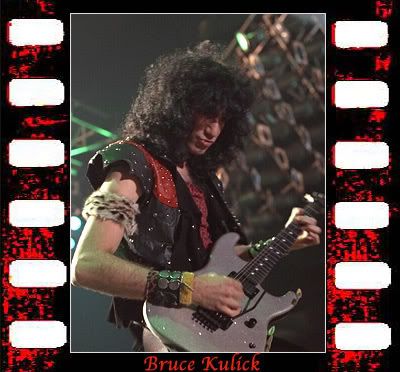 3. Even though you officially joined Kiss during the Animalize Tour, you did in fact play some guitar on the album itself. Were you brought in before or after Mark St. John and at the time did you know you were being considered for the band?
No, Mark had already been announced as the guitar player for "Animalize" when I was brought in. I know that he was having some health problems, plus I think Paul didn't like some of the stuff he was playing on one song, maybe a song and a half. That's when they asked me to come in and help out. As everyone knows, Mark then became ill so they asked me to fill in for him on tour. Along the way, they started to think that maybe I was the right man for the job and that's how my time in Kiss got its start!
Was it weird being on tour with Kiss, knowing that the man you replaced was hanging around backstage?
Well, I tried to handle it in a very positive way. Mark was always cool with me and I was always cool with him. I didn't want to make it a competition and I didn't want it to seem like I was his adversary. We actually used to jam backstage. After touring Europe for 6 weeks in the fall, Kiss had returned to tour the US. We started in Pennsylvania and I think Mark was on the road with us for about 3 weeks. He learned the show by watching it every night. When they finally tested him out onstage a couple of times, that's when they realized that it probably wasn't going to work out with him. In the end, I simply had the home court advantage because I'd already been out touring with the band. So at the end of 1984, Gene and Paul asked me to officially join Kiss.
Did Mark come out onstage and take a bow with the band after the shows?
No, I think he headed straight for the mini-bar in his room!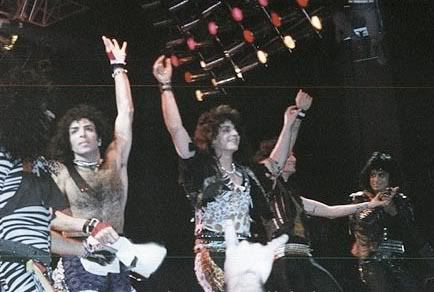 Mark St. John takes a rare onstage bow with Bruce and Kiss... even though Bruce himself seems to have forgotten this ever happened. Ironically, this photo was found on Bruce's own website!
When was the last time you saw Mark St. John before his untimely demise last year?
It was probably when we did a Kiss expo together a few years back. We had a good time hanging out but he seemed a little unsure of himself that day. Somebody would ask him a question and he wouldn't know the answer, so I'd have to answer it for him. It was truly sad to lose him last year and even though Mark wasn't destined to remain in Kiss, he left his mark on the band by playing on a great record.
4. What prompted Kiss to not only reissue the "Creatures of the Night" album in 1985 (three years after its initial release), but to do so with a non-makeup cover which included you, even though you were not on that record or in the band at the time?
Well, you have to remember that "Creatures of the Night" was not a very successful record when it first came out. In fact, the band's popularity was at an all-time low. But three years later, Kiss was becoming popular again. The "Animalize" album was a success and we were getting airplay on MTV. We were also performing songs from "Creatures of the Night" during our live shows, so the record company thought it would be a good idea to reissue the album. They also thought it would be a good idea to put the current, non-makeup version of the band on the cover, for which we shot a new photo session in Hollywood with Neil Zlozower. So even though I'm on the cover, I didn't play a single riff on the album itself. Then again, as many fans already know, neither did most of the other members of Kiss!
Okay, but more importantly... whose ass is this?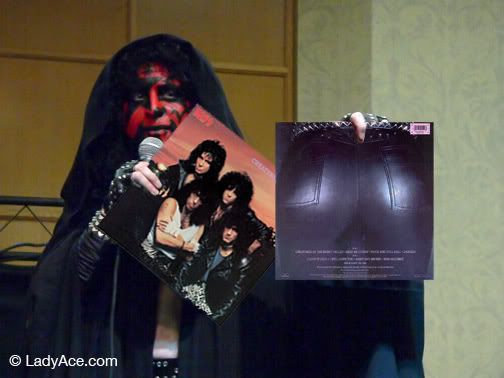 Maul Stanley holds up the back cover of the reissued record, revealing a life-size shot of someone's leather-clad behind.
You'd have to ask Gene! I don't know who that is but I'm pretty sure it's a girl. At least I hope it is!
5. In the years since his death, you have been very involved in keeping alive the memory of late Kiss drummer Eric Carr with projects like the "Rockology" album and the "Tale of the Fox" home video. Will anything be happening with Eric's animation project, The RockHeads? Rumor has it that the characters and concepts were entrusted to you when Eric died.
Well, they were only partially entrusted to me. Between Eric's family, Adam Mitchell and myself... and even Gene Simmons, who was involved for a while... we all tried to find a way of getting The RockHeads discovered. Developing an animated TV show is very difficult and very expensive. To make something like that happen, you really need a commitment from a large company. Unfortunately, I don't really have those kinds of connections. However, I do still believe in the project. Just today, someone asked me to sign a RockHeads CD and I showed my girlfriend how cool the characters look. They're as good as anything you'd see on Saturday morning television. I could even see The RockHeads being a hit on MTV or VH1. Hopefully someday, someone will want to develop them because the characters are just timeless. We'll have to wait and see what happens.

At left, Eric Carr with Bruce Kulick circa 1991. At right, a few of Eric's RockHeads characters.
Is there any other Eric material yet to surface?
There may be a few things still floating around, but nothing that's really in my control. When I assembled the "Rockology" album, I made sure to include everything I possibly could. I know that Eric's sister Loretta has said there may be a few more things, which I think are mainly from Eric's pre-Kiss days. Again, we'll just have to wait and see.
6. Name a Kiss song you have absolutely no desire to ever play live again.
Probably "Love Gun!" I know Paul Stanley has said that even if Kiss were to write the best new song in the world, it wouldn't matter because the fans would still want to hear "Love Gun" instead. So maybe that's why it comes to mind! Don't get me wrong, it's a great song and I do enjoy playing it. We used to play it all the time and I certainly don't mean that you'll never hear me playing it again! But yeah, "Love Gun" is the first song that pops into my head.
7. On a scale of 1 to 10, rate the following Kiss songs that no one remembers, all of which were co-written by you:
Ouch!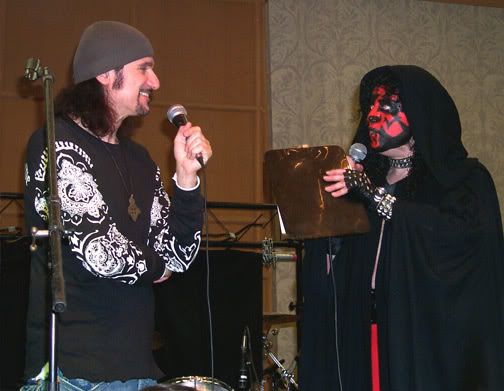 King of the Mountain =

Oh, at least a 9.


Trial By Fire =

Hey, that's a great song! I have to give it a 10.


I'm Alive =

Hmmm... I'll give that a 4.


I'll Fight Hell to Hold You =

I would say, probably an 8.


No, No, No =

Two, Two, Two! That song was really Gene's idea! It did have some fancy riffs in it, though.


Hell or High Water =

Oh, that's a 10!


When Your Walls Come Down =

I'll give that one a 7, I think it's catchy.


Prisoner of Love =

I have to give it a 6, because there was another version that I preferred. Gene was the one who turned that song into a shuffle.


Boomerang =

Maybe a 3. It's nice for the fingers, but that's about it.


Tough Love =

That's a 10! Anything from "Revenge" should be a 10.


Dreamin' =

Um... I don't even remember that one. Oh, wait... from "Psycho Circus!" Of course, I'm so sorry! That one I'm going to give an 8. Unfortunately, the song was involved in a lawsuit, although that's since been taken care of.


Sword and Stone =

A song never properly released by Kiss, I'm still pissed that Ron Nevison didn't put it on "Crazy Nights." But it's a great song so I'm giving it a 10!
8. Gene Simmons has always maintained that he has never once been drunk or high. If that is true, how did he ever agree to let you sing a lead vocal on "Carnival of Souls?"
Well, I didn't really drug him... although it did take a fair amount of prodding! I think by then, Gene and Paul already knew that the reunion would be happening so they just kind of threw me a bone!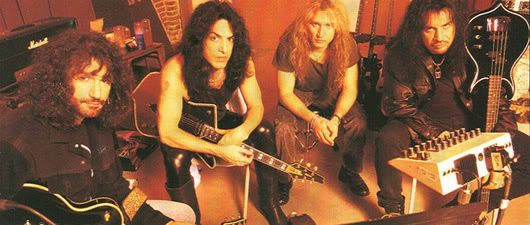 Bruce Kulick, Paul Stanley, Eric Singer and Gene Simmons recording "Carnival of Souls"
For whatever reason, I just never wanted to let go of that song, "I Walk Alone." First I sang on the demo, so we'd have a point of reference. We tried the song a couple of different ways and even worked on a version with Bob Ezrin. It was nuts! Our producer on "Carnival of Souls" was Toby Wright, who had previously worked with Korn and Alice in Chains. He was actually the one who thought it would be cool if I sang the song. Even though it might not sound like a typical Kiss track, he liked it when everyone in Kiss would sing a song on the records. So Toby was the one who really pushed for me to record the vocals. And believe me, I was petrified! Obviously, I've learned to sing a lot better since then but thankfully my voice seemed to work for the track.
I do love that song, by the way. The lyrics are actually very appropriate. Since the reunion happened shortly thereafter, I truly did walk alone! So I suppose it all made sense in the grand scheme of things.
9. When it came time to record "Carnival of Souls," you were more involved than you had ever been on previous Kiss albums. You had co-writes on 9 of the 12 tracks, you had significant influence in its overall sound and you even got to sing your first Kiss song. That being the case, how much did it suck to have all that work swept under the rug when the album was shelved and Kiss got back together with the original lineup?
First of all, for those of you who like that record, thank you! Although if you hate it, don't blame me! The original intent was to make a record that was even darker, meaner and edgier than "Revenge." For as hard as I'd worked on that album, I didn't work nearly as hard as I did on "Carnival of Souls." Gene and Paul wanted to take things to the next level with some truly evil riffs and I was more than happy to accommodate.
Maul Stanley appreciates all things evil.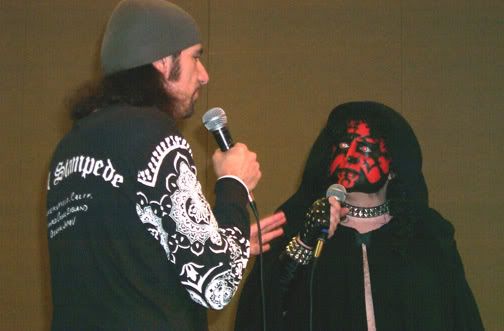 Unbeknownst to me at the time, the reunion was already in the works. That's probably why they leaned on me a little more than usual. Gene and Paul relinquished some control because there was something else on their agenda. Ultimately their plans would be a huge success, but at the time there were still a lot of wrinkles to iron out. What if Ace and Peter became impossible to work with? What if the reunion blew up in their faces? From a business standpoint, it just made sense to keep the current version of Kiss going. That meant that it was also a good idea to continue working on "Carnival of Souls," which is probably why they let me have so much creative freedom.
Even Toby Wright was inclined to take risks on that album. "Yeah, let Bruce sing a song!" Toby wasn't aware of the reunion, though. In fact, it was a very tight circle and only a few people actually knew about it, mostly lawyers and business people. Eric Singer and I only found out in January 1996, a month before the rest of the world. At that time, we were just about to begin mixing the record. Looking back, I'm kind of glad that I hadn't learned about the reunion sooner because I probably wouldn't have been as inclined to work my ass off on the album. At that point, my marriage was falling apart so going to work in the studio and dedicating my time to the music gave me a positive thing to focus on. In that respect, it was actually a very rewarding time in my life.
Obviously, it hurt when "Carnival of Souls" was initially shelved. To add insult to injury, the album ended up getting bootlegged really badly! This was in the days before digital downloading, so everything came from a bad cassette transferred to another bad cassette. Plus, there was just so much tension surrounding the band by then that I don't think Toby Wright did the best job he could have done. I actually wish that record could be remastered or remixed or something.
In the end, I just try to focus on the battles I won and the good things that came out of the experience. Sure, I got pooped on when the album went unreleased but eventually it did come out. Plus, it featured a lot of my work and I even got to sing a song on it. Not to mention the fact that "Jungle," a song I'd helped write, ended up being something of a radio hit. So even though Gene and Paul just sort of dumped the responsibility for the album in my lap, I'm proud of the fact that I stepped up to catch it.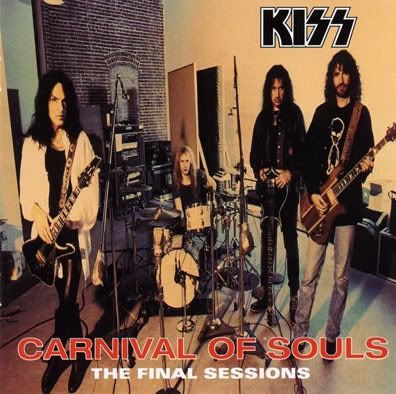 Whether or not you like the music inside, this has to be the most uninspired Kiss album cover of all time.
Seriously, could those guys look any more bored?
10. Since it was Eric Singer who suggested in 1995 that Peter Criss sit in and jam with the band during the official Kiss Konvention tour, it safe to assume that you blame Eric for getting you both fired from Kiss?
Well, I know that Eric's suggestion was innocent enough. If it hadn't been him, it would have been somebody else. In fact, it was MTV who really pushed for the reunion to happen. At the time, they were still on top of the world and exposure on the network still meant a lot.
The official Kiss Konventions were a very unique thing. Imagine going to a Kiss expo and having the real Kiss there, answering questions and playing live and the whole 9 yards. I don't know if you saw the one at Roseland in New York City, but it was absolutely incredible. It didn't even matter that tickets were $100 each, which at the time seemed exorbitant! The Kiss Konventions were something special and Gene and Paul really wanted MTV to cover them. We had been getting such a great response to performing acoustically that they wanted to do an episode of "Unplugged." MTV liked the idea, but they also wanted to do it as a reunion. So even though you could say it was Eric's fault that things happened the way they did, it was really more of a business decision on the part of the band.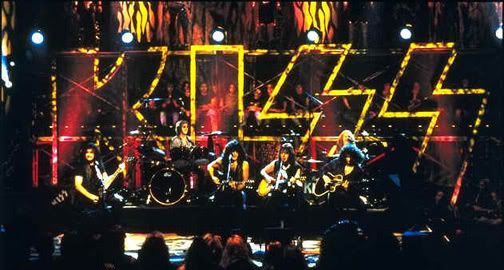 Gene Simmons, Peter Criss, Paul Stanley, Ace Frehley, Bruce Kulick and Eric Singer perform together on MTV
How long after the taping of "Kiss: Unplugged" before you realized you should start looking for a job?
Well, at the time we were still moving forward with "Carnival of Souls," so technically that version of the band was still in existence. It wasn't until Eric and I had our meeting with Gene and Paul months later that we were made aware of their reunion plans. They paid us for a year so there really wasn't as much pressure as you'd think. Honestly, I never thought I'd be in Kiss for 12 months, let alone 12 years. I knew it wouldn't last forever and I'd always kind of assumed they'd put the makeup back on at some point. In the end, they still took care of Eric and me, so for that I feel very fortunate and grateful. Personally, I was very proud of "Kiss: Unplugged" so at least I went out on a high note!
11. After being dropped from Kiss, you formed the band Union with John Corabi, who himself had just been fired from Motley Crue. What originally brought you two together and what is the likelihood that you will record new music as Union again someday?
I already knew who John was because he had been living in L.A. for a while. I also knew him from his earlier band, The Scream. It was actually former Kiss manager Larry Mazer who suggested that I get in touch with him. Larry has always been a big Corabi fan and he thought that it might make sense for the two of us to hook up. We ended up having chemistry right away so we decided to form a band together, which eventually became Union. We put out two studio albums, one live album and even a live home video. We don't really have any plans to do anything new as Union, although I do hope to have John sing on my upcoming solo album, which should create something of a Union vibe. Also, John and I will soon be traveling to Mexico City to perform together at a big rock expo there. Playing with John is always fun and there's definitely still good chemistry between us. So even though there are no real Union plans to speak of, John and I will continue to work together in the future.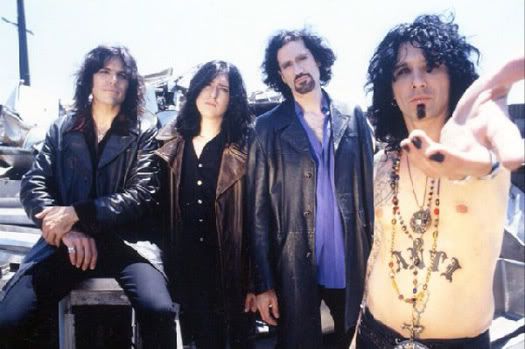 The Band Formerly Known as Union
(Jamie Hunting, Brent Fitz, Bruce Kulick and John Corabi)
Speaking of which... when you, John Corabi and Eric Singer perform together, how exactly do you determine whether to call the band Union or ESP? On occasion, the line-ups have been virtually identical! When Eric Singer was asked this question last year, he said to ask you about it.
Well, in 2005 Union had been booked to play two shows in Japan. It was supposed to be the original lineup of Jamie Hunting, Brent Fitz, John Corabi and myself, but at the last minute we found out that Brent had a scheduling conflict. At the time he was working with a Canadian band called Theory of a Deadman and he had a prior commitment to them. Since there was no way he could come with us to Japan, we were on the verge of losing a gig that would have been really great for the band. I felt like I was completely screwed and I didn't know who to turn to, so Brent suggested that I ask Eric to do it.
Eventually I did ask and even though he was reluctant at first, Eric agreed to help me out as a friend. He knew I would do the same for him and he also knew that Brent had filled in for him in the past with Alice Cooper. So Eric stepped in and we played the shows as Union... even though technically we weren't Union. I mean, we were as much Union as we were the Eric Singer Project, which also features John Corabi and myself. To make things even more confusing, ESP would occasionally perform Union songs in concert! So obviously, the lines got a little blurred.
What started out as a noble gesture on the part of Eric Singer wound up making everyone look a little foolish. I honestly didn't mean to confuse people and I now kind of regret the way it all played out. On the plus side, the experience rekindled my working relationship with Eric and we realized how much we enjoy playing together, so at least one good thing came out of it.
Union also performed another series of dates later in 2005 with Fred Coury on drums alongside bassist Chuck Garric, who also plays in ESP.
Right. Well, ever since then, if John is going to be involved, I'd just as soon include Eric and call it ESP. I don't really like to call it Union anymore without using the original rhythm section.
In that case, will there perhaps be more ESP material in the future?
ESP is more Eric's baby than it is mine but it usually seems to work best when the two of us tackle it together. He and I have kicked around some ideas but we're both always so busy. Still, I'm sure we'll do something together again at some point.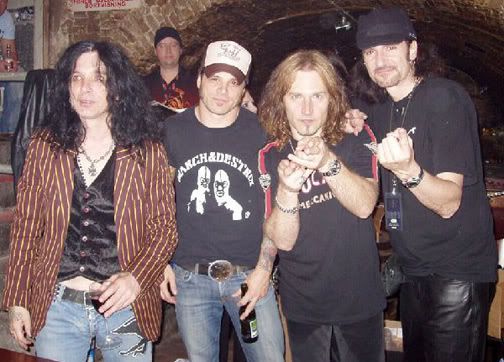 The Band Currently Known as ESP
(John Corabi, Chuck Garric, Eric Singer and Bruce Kulick)
12. Of the following, which do you prefer and why?
Bruce Campbell or Bruce Jenner =

What did Campbell do again?

"Evil Dead," "Xena: Warrior Princess," etc.

In that case, him!


Iron Man or The Incredible Hulk =

That Iron Man film looks cool! I really want to see that.


Guitar Hero or Rock Band =

Well, I haven't played "Rock Band" yet so I'll go with "Guitar Hero."


Carr Jam or Breakout =

Hey, I played on "Carr Jam!"


Domino or Little Caesar =

With all due respect to Eric and "Little Caesar," I have to go with "Domino."

I'm a Pizza Hut man, myself.




Instrumental or Outromental =

Oh, boy! Well, "Outromental" was originally supposed to be part of "Childhood's End," although I think that version is only available on the box set. Anyway, I choose that!


Audio Dog or Transformer =

I love both! That's like asking me which child I love more... although I suppose "Transformer" has deeper meaning to me.


Transformers or Thundercats =

Haha! Transformers, again!


Thundercats or Thunderbirds =

Thunderbirds!


GNR or GFR =

Well, I have to say Grand Funk Railroad but I do love Guns N' Roses, of course.


ribbed or studded =

I'll go with ribbed... for her pleasure!


"Return of the Comet" or "Return of the Jedi" =

To a Kiss crowd, I have to say "Return of the Comet," but I am a huge Star Wars fan!
13. Bruce, the Kiss fans want to know: Even though there has never been an official occasion for you to do so, have you ever toyed with the idea of coming up with your own Kiss makeup or character?
I've been asked this question before and I always have the same answer. I figure that since there's already a cat in the band, I should probably be the dog. I'd have a big circle around one eye and I'd look like Petey from The Little Rascals. I've actually seen one or two fan renditions of what that might look like! So yeah, I'd be the dog.
Okay, but have you personally ever sketched out any makeup ideas on paper?
No, I never have.
Doodled on a napkin, maybe?
No.
Have you ever worn any Kiss makeup at all?
Nope.
Have you ever just put on some lipstick and gone out for a night on the town with the girls?
No, that has never happened! Although I have worn eyeliner, if that counts.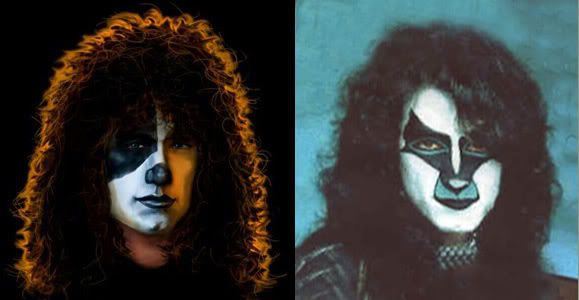 Two fan-rendered versions of Bruce Kulick's proposed dog makeup!
14. By the numbers:
Number of rooms in your house =

I guess I have... 5 rooms there.


Number of CDs you own =

Easily 400 or 500.


Number of good CDs you own =

I would hope that at least half of them are good!


Number of times you've hung out with Ace Frehley =

That I could count on one hand. And when we have, it was mainly for work. We do get along and have a lot of respect for one another, even though I don't always understand him. I think he really did come from another planet!


Number of Kiss expos you attend in a year =

Some years it could be none, other years it could be 5 or 6. So it all depends.


Number of times you've seen "Star Wars" =

Oh, probably 100! I love Star Wars!


Number of the Beast =

666!


Number of Shameless albums you've played on =

Oh, man! Sadly, I think 2 or 3. I didn't make it onto one of them but I know Eric Singer did, so I give him shit for that all the time.


Number of times you've spoken to Ken Gullic this month =

I saw him just last week! Ken's the guy behind the "Kissology" releases and a good friend of mine.


Number of times you've passed out from inhaling John Corabi's patchouli fumes =

Yes, he does smell of this oil! Thank God he never got it on my furniture from hanging out at the house. There was only one time I can think of when it got overwhelming, but it's still better than the cigarette smoke!
15. Other than Vinnie Vincent, you are the only living member of Kiss never to have been asked to rejoin the band. They even dressed Eric Singer as Peter Criss and hired their tour manager to play Ace Frehley before giving you a call. Do you think they're trying to tell you something?
Well, if you ask me, it totally made sense to have Tommy Thayer join the band.
Before Bruce can say another word, some random guy in the audience shouts out the following:
Tommy sucks and you're better!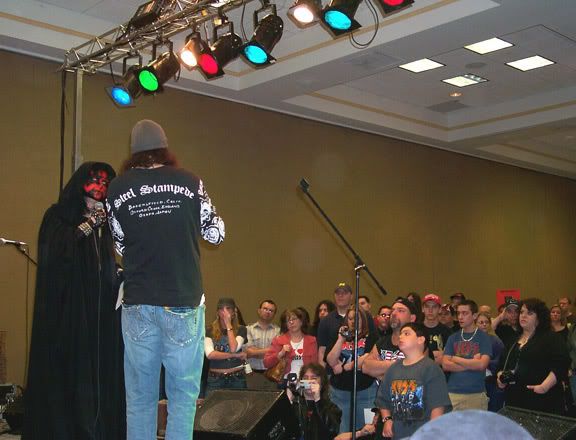 Well, that's not the point. Tommy and I are friends and I understand the whole situation. It actually had more to do with Ace's dysfunction than who they should use to replace him. There were more than few nights when it wasn't clear whether or not Ace would be showing up for a gig. Naturally, it's very hard for a band to function like that. Since Tommy was already on the road with them, it just made sense to say, "Put on the outfit, we don't know if Ace is coming." Plus, Tommy is an excellent musician and he was great in his Kiss tribute band. So once Ace left for good, it just made sense to have Tommy replace him.
I was actually quite relieved when they chose Tommy because I would've had a real moral dilemma if they'd asked me to do it. I mean, how exactly would that work? I'd spent 12 years in the band as Bruce, but now I'm supposed to be Ace? If I was wearing Ace's makeup and playing only Ace's material, that's just how I'd feel. Eric Singer didn't have as much history in Kiss, so that's probably why he was an easier fit. In my case, it would have been hard for me emotionally because I would have felt like, "Damn, what about my years?" So in that sense, I'm actually glad that they ended up choosing Tommy.
Of course, from a business standpoint, if they'd made me an amazing offer and guaranteed me a place in the band and all that, I would've had to consider it. I loved playing in Kiss and I miss playing in Kiss. That's why it would've been such a difficult decision for me. But I'm still very close with both Gene and Paul and I'm glad to see that they're carrying on so well.
Did you feel left out when Paul Stanley didn't paint you as part of his Kiss portrait series?
I think Paul has much more interesting subjects to paint than me!
16. Since you are also an accomplished bass player, what are the odds of you hooking up with Ace Frehley, Peter Criss and Vinnie Vincent to form your own version of Kiss?
Now that's a scary thought!
Think about it, that could be huge.
It's a good idea but I probably wouldn't want to entertain something like that.
You could call it RE-UNION.
I think I'll just stick to playing bass on records or when people hire me, but that's about it!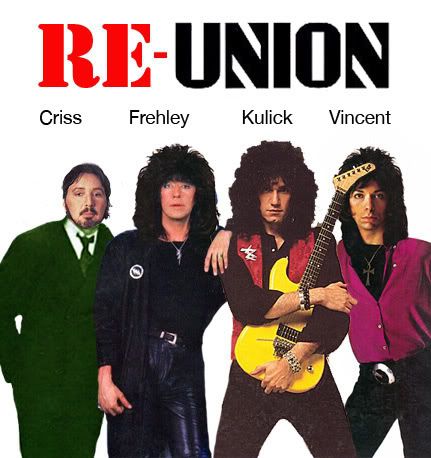 Peter Criss, Ace Frehley, Bruce Kulick and Vinnie Vincent as Union, Mark II!
17. Speaking of Vinnie, it was recently announced that there will soon be an album released in his honor called "KISS MY ANKH: A Tribute to Vinnie Vincent." That being the case, what would be a good name for a tribute to you?
Oh, man! I don't know... how about "Walk the Dog: A Tribute To Bruce Kulick?"
Okay, but would you play on it?
Probably! Although hopefully I'm not old enough to have my own tribute album yet. I did hear about that Vinnie Vincent one and it sounds cool. By the way... has anybody actually seen Vinnie Vincent lately?
18. Earlier this year there were rumblings of a so-called "Kissology Tour," which would feature performances by all living members of Kiss, past and present. Is there any truth to this rumor and have you been contacted about such an event?
Honestly, I think that's just something people talk about on internet bulletin boards. Even if something like that was ever discussed in the Kiss offices, I've never heard from them about it. Personally, I think a more noble gesture would be to do a "Revenge" era tour, although at this point I don't think Gene and Paul want to take off the makeup.
19. For the past few years you've worked as a counselor at the Rock 'N' Roll Fantasy Camp. Wouldn't you agree that it's nothing more than day care for rich guys who can afford $9,000 to pretend they have famous friends for a week?
Well, I suppose that's one way of looking at it! Personally, I get a lot out of the experience because for once I get to be the one to say, "Shut up and play it like this!" Seriously, you can't imagine how intense it can get or how many hats I have to wear as their fearless leader. Just like any family or real rock band, sometimes people don't get along but in the end they develop a true camaraderie. Overall, it's extremely rewarding to watch a bunch of strangers become a functional rock band right before your eyes, performing on stage with all the passion and fury of a professional group. I also don't mind the fringe benefits that come along with the job, like jamming with such legends as Jack Bruce, Dickey Betts, Jon Anderson and Roger Daltrey. So I guess you could say I've had some of my own rock & roll fantasies fulfilled by the camp!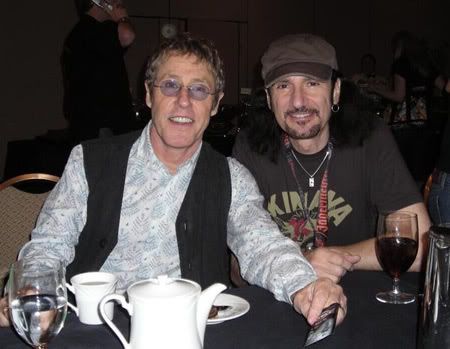 Who is sitting next Bruce Kulick? Yes, he is! Roger Daltrey shares a spot of tea with BK!
20. In the recent past, Paul Stanley has had his hip replaced, your brother Bob has broken his leg and you were shot in the thigh by a stray bullet. Is there some sort of Kiss guitarist curse we should know about and is Tommy Thayer at risk?
Maybe! I'll need to call Tommy and warn him right after this interview!
It seems as though you've all had to endure some sort of painful leg injury.
True, but those were all just flukes... mine being the biggest fluke of all!
21. Do you think it would help your career at this point to accidentally release a black & white video of yourself having sex while wearing a T-shirt?
Bruce's hot blonde girlfriend chimes in from the audience:
I'll be in that one!
If anyone saw that video... I'm sorry! Seeing Gene in that state actually scarred me in my own special way! It reminded me of when I used to have my own tuning room while I was on tour with Kiss. I would use it to practice and warm up before shows... except for this one time when Gene decided to use it as his little "funtime playhouse!" Walking in on that did a number on my brain! But seriously, my intimate moments are precious to me and I don't ever intend to roll tape on them.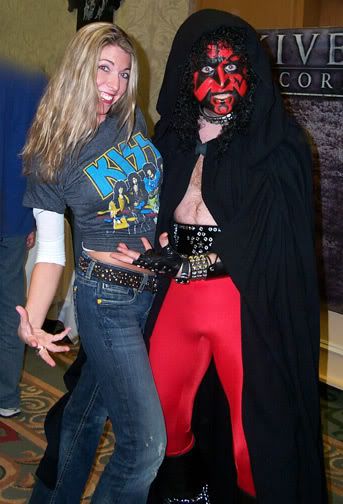 Since Bruce has vetoed the idea, Maul Stanley prepares to take up Bruce's girlfriend on her offer to star in a sex video.
22. The Last of Bruce Kulick:
Last movie you saw =

The one with that hot chick and the guy from "Superbad." Um... oh, "Knocked Up!" That, and I finally bought "Yellow Submarine" on DVD.
Last concert you watched from the audience =

Believe it or not, Ace Frehley!
Last tribute album you played on =

I think it was a Led Zeppelin one for my brother. Jack Russell from Great White sang on the track and ours is the best song on the album! I'm actually rather proud of how it turned out, but it's on one of those labels where it's anybody's guess if people are ever going to hear it.
Last piece of Kiss merchandise you bought =

I actually just bought a shirt with the "Kiss My Ass" cover art on it. It looks really cool!
Last time you spoke to Meatloaf =

I ran into him some time ago in L.A. He's always very cordial, of course. And I think his new cell phone commercial is great!
Last time you ate meatloaf =

Haha! I probably had it a couple of months ago at the Daily Grill. They make a good meatloaf.
Last time you saw Jamie Hunting =

Oh, it's been awhile. It might have been when Union played Japan with Eric Singer, so maybe 3 years ago. Jamie and I have been in contact since then via the internet, just not in person.
Last time you listened to "Zeptune" =

Wow, good one! Gosh, it's been ages. The last time I listened to it was probably when I was thinking about dusting it off for one of my clinic performances, so maybe 4 or 5 years ago. Believe it or not, I still get royalty statements on that track.
Last time you had dinner with Gerri Miller =

Oh, dear! That would have to be 6 or 7 years ago, before she sort of hung up her career as a rock & roll journalist. That was probably wise of her to do, moving into things like TV and movies and general entertainment. I haven't really had any contact with her since then but I always wish her the best. I know she was often picked on but she was also a big part of the scene for a long time.
Last time somebody called you "Spruce Kulick" =

It's been quite awhile… although every night before I go to bed, I open my copy of "Kisstory" and read the comic book pages where it all started!
At this point, Maul Stanley announces that he will wrap up the interview with a surprise lightning round! The name of this exciting challenge is...
PAUL STANLEY or MAUL STANLEY?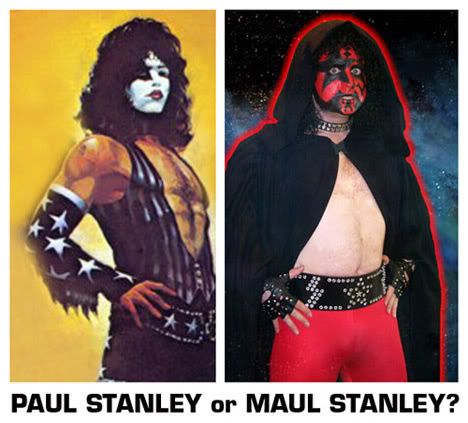 We'll let the Sithchild explain.
Bruce Kulick, I will now recite 10 facts... either about myself or about your former bandmate Paul Stanley. If you correctly identify all 10, you will win a fabulous prize worth 10,000 Galactic Credits (or about $8.00 American).
Go for it!
Wears black spandex pants that show off his Love Gun =

Paul Stanley.


Wears red spandex pants that show off his Lightsaber =

Maul Stanley.
Has more chest hair than a mountain gorilla =

That is Paul Stanley.


Has about as much chest hair as a 13-year-old boy =

That must be Maul Stanley.
Is in excellent physical condition for a man pushing 60 =

That would be Paul Stanley.


At this very moment is feverishly sucking in his gut =

That would be Maul Stanley!
Maintains his youth by eating right and drinking plenty of water =

That sounds like Paul Stanley.


Maintains his youth by drinking the blood of his enemies =

I'm pretty sure that's Maul Stanley.
Actually, no. That's also Paul Stanley.
In that case, I'm glad I'm not his enemy!
That was a tough one, so you get a pass on that. If you get these next two right, you win it all.
I'm ready!
The Lover... The Dreamer... The Starchild of Kiss =

That's definitely Paul Stanley.


The Liar... The Schemer... Dark Lord of the Sith =

That's YOU, Maul Stanley!
And with that last correct answer, the audience erupts into a frenzy! Well, not exactly. But they do applaud and cheer as Maul Stanley awards Bruce his prize...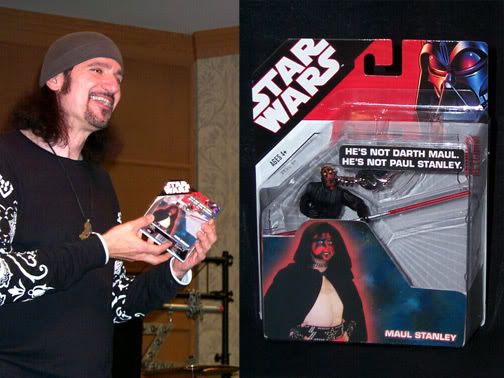 ... a one-of-a-kind prototype Maul Stanley action figure! At least we hope it's one of a kind because we're not sure who else would want one. Still, Bruce looks pretty darn happy about winning it and that's good enough for us.
And so ends our Metal Sludge 3-Wind with former Kiss guitarist Bruce Kulick, brought to us by surprise correspondent Maul Stanley! As usual, Bruce was pretty laid back about the whole affair and nothing much seemed to ruffle his feathers. Still, he did a pretty good job of clearing up the confusion surrounding Union and ESP, which we didn't think was even possible. Now if only he could explain the difference between ESP and KKB! Anyway, go buy a copy of Bruce's new CD because he probably blew though his Kiss severance money a long time ago. Our thanks to the esteemed Mr. Kulick for not only being a good sport but for having the balls to be interviewed onstage by a man wearing red tights and a cape.
Speaking of whom...
We have to hand it to Maul Stanley for delivering one heck of a Metal Sludge interview his very first time out of the gate. You'd almost think he'd done this sort of thing for us before! Seriously, the questions were pretty damn funny and that RE-UNION gag of his is just crazy enough to work! If that actually ends up happening, they ought to cut him in for 10% for coming up with the idea. For more Maul Stanley and Bruce Kulick fun, don't forget to check out their separate Star Wars interview via the official news blog at StarWars.com!
In closing, Maul Stanley has asked us to thank Richie Ranno of the NY/NJ Kiss Expo for allowing him to interrogate one of his guests, as well as stage manager Mike for making sure things flowed smoothly at the event. The Sithchild also wanted to make sure we thanked some dude named Hans and his wife for allowing him to use their hotel room as a base of operations that day, from which to inflict his evil upon the masses. Maul Stanley even wanted us to thank someone named Matt from Pennsylvania, although he refused to explain why. So thanks to Matt for whatever the hell he supposedly did. Maul Stanley's adventures at the Kiss Expo would not have looked nearly so nice if not for the tireless efforts of his photographer Tracey (and her pal Kiva), who somehow made it to the event in time despite the fact that their car broke down on the Long Island Expressway! Talk about dedication! Lastly, Maul Stanley would like to extend his appreciation to the guy who approached him at the event to tell him that that his interview with Bruce Kulick was even better than C.C. Banana's interview with Eric Singer... mostly because he can't stand C.C. Banana. Go figure.
We've heard rumors that Maul Stanley has recorded a Kiss cover for an upcoming tribute album, so be on the lookout for that in future. Unconfirmed at this time, however, are reports that he will replace Paul Stanley in Kiss once he and Gene Simmons retire, as they've been threatening to do lately. To keep up on the further adventures of Maul Stanley, visit him at his official website or MySpace page. To learn more about guitarist Bruce Kulick (or to just pester him about when he plans on returning to Metal Sludge for his inevitable Back-4-More interview), check him out at any of the appropriate links below. As they say... KULICK IT UP!
We leave you now with a parting shot of two mugs that only their mothers could love.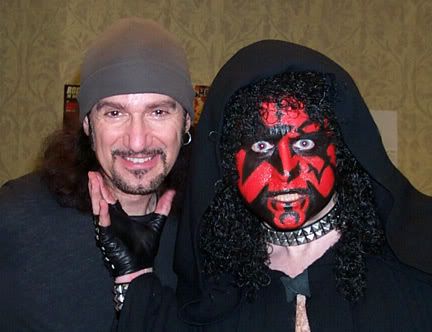 Bruce Kulick
http://www.Kulick.net
http://www.myspace.com/BruceKulick
KKB
http://www.LiveCream.net
http://www.myspace.com/KKB1974
Maul Stanley
http://www.MaulStanley.com
http://www.myspace.com/MaulStanley
Metal Sludge
Sludge Wars, Episode I: The Fandom Menace